GC Modular
Grating Hinged grates for overflow structures
We supply hinged grates and adjustable overflow edges for overflow structures, made from stainless, acid-resistant, or hot-dip galvanized steel.
To ease the work of the engineer, we have developed the hinged grates into a modular system.
The grates are installed easily and trouble-free using our installation instructions.
GC modular grating is extremely user-friendly and is cleaned from ground level by lifting the grates, divided into modules of approx. 1 meter, and let them drop back down again. This removes 80% of matter from the grate. The remaining matter is removed by flushing.
This can all be carried out through a cover from the top of the structure.
Eccentric locking bolts prevent the grates from being opened at the wrong time.
Design: The modular grating is made from 30 x 5 flat steel with a bar pitch of 20mm. It is possible to integrate a foam edge and overflow edge with a grating system.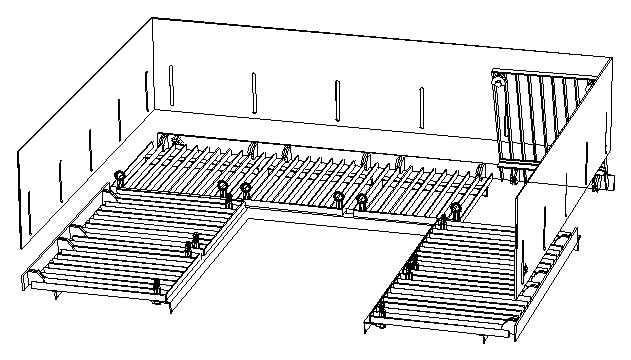 Overflow Structure with Recessed Covers and GC Modular Grating
GC Modular Grating
Inside measure:
6,000 x 700 mm.
Bar pitch:
20 mm.
Covers:
Load:
400 kN. Class D 400.
Inside measure:
6,000 x 1,100 mm.
Material:
Hot-dip galvanized steel.
Equipment:
Safety support for the lid.
Spring assisted lids.
Opening force 10 – 20 kg.
Locking bolts.
Floating frame.
Safety grid and railing.
Lock box for padlock.
Client:
Aarhus Council
Overflow Structure Hasselager
Aarhus, Denmark.